A Few Things to Remember First
We offer two different sessions. The Fall Session runs the whole school year August-May. While the Summer Session runs June-July. You may enroll in the middle of a session.
Our classes do fill up fast so if the class you wish to enroll your gymnast in is full then add them to that class's wait list. If you do not add them to a wait list we will not know they need a spot if a spot opens up.
There is a required class leotard for girls and a required class t-shirt for boys when registering in the Fall Session. These are used for class photos and our end of the session program. Gymnasts are of course more than welcome to wear them to practices.
To register your gymnast you will need to create an account with our class management software iClassPro.  
There will be a registration fee when you register with us that will be good for one year.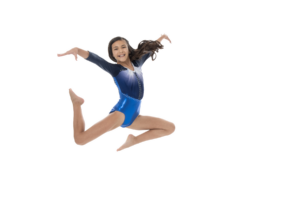 Not Sure What Class to Sign Your Child up for?
Check out our class descriptions to better understand what class to sign your future gymnast or ninja up for. If after reading the descriptions you are still unsure, contact us!
Wondering why your child should enroll in gymnastics?
See the benefits of gymnastics